How To Find Material Spec Sheets On General Data's Website
All of General Data's published label and tag material spec sheets are available on General Data's website for you to view and download.  Here's how you access them.
To begin, go to the Knowledge Base section of our website.  You can access it by first clicking "SUPPORT" in the top menu bar, then clicking "Search Knowledge Base."  Or you can go there directly at: https://www.general-data.com/support/knowledge-base
Once you are on the Knowledge Base page, you are presented with a search form: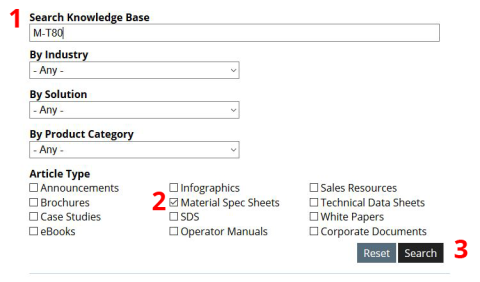 1. Enter the "M" number or the brand name of the label or tag.
To find M-T80 material spec sheet you would enter M-T80 -- dont forget the hypen after the M, it is important.
To find PaintMask material spec sheet you would enter PaintMask.
2. Be sure to check "Material Spec Sheets" to limit your search to only those types of documents.
3. Click the Search button.
That's all you need to do!  The results of your search will appear below the search form.
If you have any questions or need help finding the material spec sheet that you need, feel free to contact us.