General Data & Customers Hit The Greens For A Great Cause
On Tuesday, May 23rd, over 100 golfers gathered at Hickory Woods Golf Course in Loveland, OH for what turned out to be a beatuiful day of golf. General Data's Golf Scramble brought in customers and partners from as far away as California - all enjoying their time on the course to perfect their putt and learn more from some of the barcoding and labeling industry's leading experts. Golfers of all skill levels hit the course to play 18 holes of best ball, competing for bragging rights and cold, hard cash. But in the end, there could only be one winning foursome.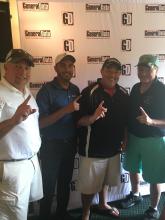 (click to enlarge) Pictured: McKinzie, Persaud, Tanaka, Heller
A Great Cause
The outing wasn't just about winning, as General Data teamed up with Inter Parish Ministry to raise money to help keep their pantry stocked this summer. Participants generously donated canned goods in exchange for free mulligans. All the proceeds from the split the pot, roll of the dice and other golf games were donated to IPM. After all was said and done, Inter Parish Ministry was presented with $1,036 in cash and a large bin filled to the brim with canned goods. We were proud to partner with IPM again and support their noble efforts to provide for those in need within our community.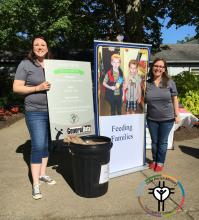 (click to enlarge) Pictured: Selvey, Crosh
Looking Ahead To Next Year
While this years event has already passed, we are excited to start planning for next year. If you're debating as to whether you should join us for the 2018 Golf Scramble, take a look at the video from this years event. And then fill out the webform to the right to make sure that you are among the first to hear about the next General Data Golf Scramble.
Special Thanks
We would like to give special thanks to all of our sponsors who donated to the event. The scramble was a huge success in large part due to your participation and support. And last but not least, a huge thank you to all of our volunteers who spent their day helping to set up, run and clean up after the event. You all made sure the day ran smoothly and we could not have done it without you!