Let the spirit of giving continue!  This season General Data employees and Inter Parish Ministry teamed up to stock up their post-holiday pantry shelves at the Choice Food Pantry.  The team at General Data helped to collect and donate food and personal care items to assist families in need right here in our tight-knit community.  General Data has had such a positive experience working with IPM and we look forward to participating in many more events to help those in our community.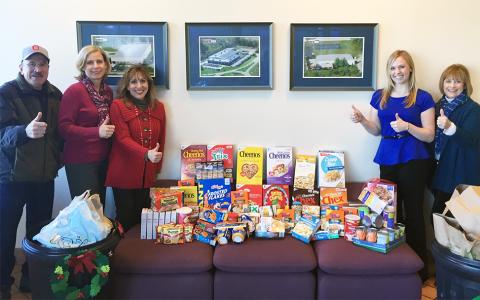 L-R: John Schraut, IPM Volunteer; Carol Roundtree, IPM Volunteer Coordinator; Jackie Malblanc, General Data Marketing Manager; Aly Riedel, General Data Marketing Manager; Gail Koford, IPM Development Director.
Parish Ministry offers a client Choice Pantry so that families can select the nutritional food they prefer. Families who come to IPM express their gratitude for having the opportunity to make choices.  The Choice Food Pantry offers the opportunity to select food and seasonal clothing year round based on family size and preferences. Clients can shop every 90 days with photo ID, proof of residence and family member ID's. 
Inter Parish Ministry wants to create an atmosphere of dignity for its clients. Many of the people they serve have few choices in other areas of their lives and giving them the opportunity to choose their own food – food their families need and will enjoy – can positively impact their self-esteem.  Volunteers who assist families as they "shop" in the pantry, appreciate the opportunity to interact with them and make them feel comfortable and encouraged.
We would like to thank our team here at General Data for their collaboration and generous donations.  We look forward to continuing our relationship with Inter Parish Ministry and helping to empower the families in need here in Hamilton and Clermont County.
To learn more about Inter Parish Ministry or how you can help their cause, please visit their webpage at www.interparish.org.
"No act of kindness, however small, is ever wasted."