GHS-Compliant Labels – What Are The Essential Components?
OSHA's new Hazard Communication Standard for chemical product and container labeling uses the Globally Harmonized System (GHS) requirements for the information and other elements that must be on the label.
6 Distinct Elements for GHS-compliant labels
According to OSHA, chemical labels must include 6 distinct elements: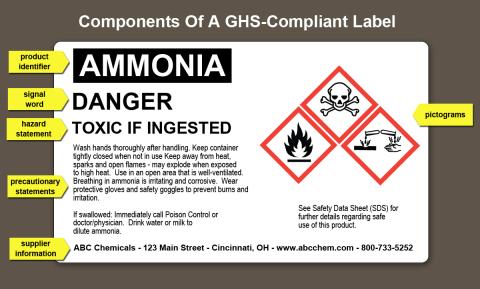 1.  The Product Identifier
Normally placed in the upper left hand corner of the label, and corresponds with Section 1 of the Safety Data Sheet.  It identifies the hazardous chemical by an appropriate term, and can include the chemical name, code number and/or batch number.
2.  Signal Word
There are two types of signal words used to determine the severity of the hazard.  For each label, either "Danger" (a more severe hazard) or "Warning" (a less severe hazard) must be used. There's only one word per label and, since hazards exist within a variety of classes, a "Danger"-level warning is used if it exists in any one class.
3.  Hazard Statements
Describes the nature and degree of the hazard. Labels can contain multiple hazard statements, and should always be standardized and consistent within each hazard classification category
4.  Precautionary Statements
Instructs workers and users on measures for minimizing exposure and lowering the risk of harm from a chemical. There are four different types of precautionary statements that should be provided in the label: a prevention statement that describes how to minimize exposure, a response statement that describes what to do in case of exposure, a statement describing how the chemical should be stored, and a disposal statement with instructions for proper disposal of the chemical.
5.  Supplier Information
Including the name, address and telephone number of the chemical manufacturer, supplier or importer.
6.  Pictograms
Composed of a hazard symbol surrounded by a red border to visually illustrate the hazards of a chemical so they are universally readable. There are currently nine pictograms, and  depending on the chemical, a single label can contain multiple pictograms to specify multiple hazards.
As OSHA's GHS labeling mandate is fast approaching, many companies are gearing up their systems to conform to these requirements.  Once you have determined "what" needs to be printed on your labels, the inevitable question is "how" – as in "how do I print these labels?"
The General Data GHS Label Buyer's Guide
What is the best labeling system for my company to print GHS-compliant labels?
There are a number of different printing methods for GHS labels, how can you determine which one is best for your operations?  General Data's GHS labeling systems buyer's guide can help.  It can help you understand and compare the different label printing methods and choose which one is the best fit for your business and will provide maximum return on investment (ROI).  It also includes a 9 step plan for successful implementation for a GHS label printing system.
Download our buyer's guide at www.general-data.com/ghs
Free GHS Label System Consultation
General Data Is Your Source For Complete GHS Label Solutions
General Data makes the transition to the new GHS labeling requirements easy for you by providing everything you need including:
GHS label printers
GHS labeling
GHS software
GHS supplies
GHS printing systems service
GHS system set up and integration
But don't be fooled into thinking that GHS labeling is a simple one-size-fits-all proposition. Chemical manufacturers rely on General Data's extensive product knowledge and application expertise to determine the best configuration of labels, printers and supplies, and the know-how to bring it all together to meet the unique needs of the individual facility and provide maximum ROI.
Call us at 1-844-643-1129