General Data Company employees have a long-standing tradition of helping their neighbors in need through numerous community outreach efforts. And this year we partnered with Inter Parish Ministry to stock their shelves with toys for their 9th Annual Toy Store event!   The team here at General Data opened their hearts and their wallets to donate over 150 toys for this magnificent occasion. Yesterday, on Giving Tuesday, we were thrilled to deliver everything from the latest Barbie, Frozen & Paw Patrol toys to all things Star Wars - and everything in between!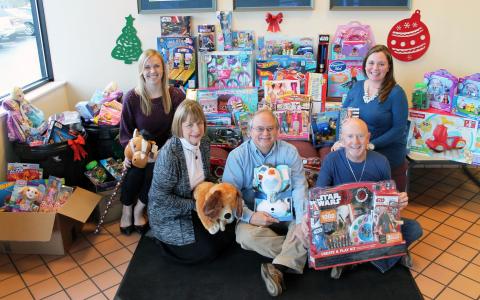 L-R: Aly Riedel, General Data Marketing Manager; Gail Koford, IPM Development Director; Peter Wenzel, General Data CEO; Chuck Swanson, IPM Manager of Pantry Operations; Ashley Crosh, General Data Marketing Manager.  Aly and Ashley were co-organizers of this year's toy drive.  (click picture to enlarge)
The wonderful staff at Inter Parish Ministry hosts their Toy Store event on December 5th this year. For nine years, this event has allowed low income, working parents and/or grandparents who are custodians of their grandchildren, an opportunity to shop for high item popular toys at low prices ($1 or $2).  The Toy Store event empowers the parents so that they might experience the joy and empowerment of giving their children gifts from the people they love. It is one of IPM's most favorite giving programs and has quickly become one of our favorites, as well.
Inter Parish Ministry is a remarkable organization that assists local families in need, right here in Clermont County. Through Inter Parish Ministry, people from over 35 congregations representing many diverse denominations, as well as numerous businesses, schools, community groups and individuals,  join together to respond to the calls of help from our neighbors. Pooling their Christian commitment to their less fortunate neighbors, this ecumenical array of people is laying down theological differences and rolling up their sleeves to help others. The agency is striving to respond to the needs and issues that are part of the daily life of families in need and in crisis. To learn more about Inter Parish Ministry or how you can help their cause, please visit their webpage at www.interparish.org.
We would like to thank our wonderful team for their generous donations. You truly represent the spirit of General Data. Your humanity will directly impact the lives of 50 families this holiday season, contributing to hundreds of smiles, hugs and warm embraces. This was General Data's first time partnering with Inter Parish Ministry and we were humbled by their many stories of hope and kindness. And while we just wrapped up our toy drive, we just couldn't wait to collaborate again. We are excited to announce now through January 5th, we will be collecting food to help IPM fill the empty Choice Food Pantry shelves.