How to Track Equipment Maintenance Using the Barcode Tool Tracking System Tool Hawk
Managing tool and equipment inventory is a major concern to any company. Where are the tools? Who has the equipment? These are questions that are keys to productivity and profitability. Just as important is the need to keep tools and equipment in good working order. Barcode tool tracking systems like Tool Hawk™ from General Data include the capability to track the maintenance of equipment as well as the location of each. Incorporating durable permanently applied barcodes to tools along with a simple to use maintenance function in the tool tracking software is the easiest way to record maintenance activity. Tool Hawk™ has the following simple to use steps to accurately record the maintenance performed on tools and equipment.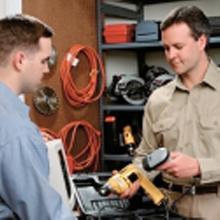 1. Set up different maintenance categories
Tool Hawk™ provides the ability to customize and add different maintenance categories. Setting up categories of maintenance helps to clearly report as to the type of work performed on equipment. For example, one category could be "Scheduled Maintenance". This maintenance category will update the next date service is due. Another category could be "Corrective Maintenance" which is noted as the repair of equipment not functioning properly. Other categories could be added such as "Engineering Upgrade" or "Recondition". In Tool Hawk™ these are customizable to fit any typical maintenance environment.
2. Set up maintenance actions
In addition to the categories of maintenance explained above, there is a need to record what specifically was done to the equipment during maintenance. In the Tool Hawk™ barcode tool tracking system, this is added using the drop down table named, Maintenance Actions. By having a drop down list, it makes it much easier for the repair technician to update maintenance records. Examples like "calibration", "replace belt", "change oil" and more can be added to maintenance actions in Tool Hawk™. These actions are clearly displayed in reports.
3. Perform maintenance
To record maintenance in the Tool Hawk™ barcode system the technician would simply click on the "Maint Info" button on the main screen for the equipment he/she is looking to do work on. They would then pick the maintenance category from the drop down list. Next would be the maintenance action that was performed would be chosen from the drop down list. The cost of the maintenance, the date the work was done and any notes added and that is all. This maintenance record would be saved for reports as needed.
4. Run maintenance reports
It is important to report on the maintenance activity of individual tools and equipment. In Tool Hawk™ the key report is the "Maintenance Activity Report". This report can be sorted by manufacturer, model number, category and department. The maintenance records for an individual piece of equipment for any length of time can be displayed as well. These reports can be an invaluable resource to make intelligent purchasing decisions in the future. It is better to replace equipment or keep fixing it.
Normally barcode tool tracking systems are a way to keep track of the movement of tools and equipment but adding the functionality of tracking maintenance as well can be invaluable for any company. Now management has a true picture of what the cost of maintaining tool inventory really is.
If you would like to learn more about the Tool Hawk™ barcode tracking system and how maintenance is recorded, feel free to speak to one of our professionals at 844-643-1129, by email at talktous@general-data.com or send us a message by clicking on the link below.