New Year's Resolution: Lower My Environmental Impact
If this sounds like an item on your list of resolutions this year, you'll want to keep reading.   General Data has become an authorized channel partner of the PrintReleaf Exchange (PRX), the first technology platform to enable cloud-based forest product (e.g., paper) tracking and reforestation. This strategic partnership allows us to provide our customers with an innovative and authentic way to promote sustainable business practices and reduce the environmental impacts that can result from the use of forest products, such as printing.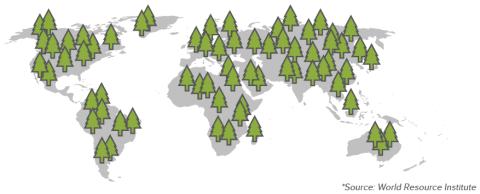 PrintReleaf measures paper consumption through a process that uses your printing data which is collected by our managed print software.  This allows you to neutralize paper waste, improve efficiency and participate in sustaining global forests.  Through this process, you are able to "releaf," or reforest your paper consumption by planting new trees – equivalent to your paper use – at global reforestation project sites of your choice.  PrintReleaf reforests at a generally accepted rate of 8,333 sheets of paper per tree.  Not only is this program easy to use, but best of all it's free!
Your benefits:
Reduce your environmental footprint
Automate sustainability
Plant your preferred forest
Promote your impact
Since the launch of PrintReleaf, the company has measured nearly 100 million pages and releafed 10,000 trees.
---
Interested in learning more about the PrintReleaf program? Read the full press release here, or: 
You may also chat with us using the chat box below.