Did you know?
Each discarded toner cartridge adds approximately 3 pounds of unnecessary waste to our landfills.
It will take nearly 1,000 years to decompose each cartridge.
It is estimated that 100 million laser printer cartridges and 400 million inkjet printer cartridges are produced each year.
Maybe it's time to start thinking about recycling. At General Data, we can help you limit your impact on our fragile environment. To start, General Data's Black Rhino Printer Supplies are "green" from their beginning. All of our Black Rhino Printer Supplies are remanufactured which is helping to keep hundreds of thousands of used cartridges out of our nation's landfills.
Our printer supplies recycling program is a simple and efficient way for you to recycle your used toner and inkjet cartridges. Best of all, you can use this recycling program for all of your toner and inkjet cartridges, not just Black Rhino products. Not to mention, it's free!
How to Recycle Your Toner and Ink Cartridges: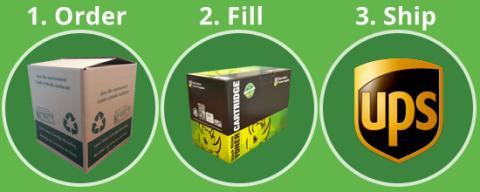 Step 1: Order a [free] recycling container from the General Data Store
To participate in this recycling program, you need a recycling shipping container sent to you. To order the containers, choose the method that best suits you:
The shipping containers are designed to hold different quantities of toner and inkjet cartridges. You can order as many as you need as often as you need them. There is no charge to you for ordering the recycling containers, and there is also no charge for the cost to ship them to you.
Step 2: Fill the recycling container with your used toner and ink cartridges
Be sure to put the right types of cartridges in the correct containers.
Place larger cartridges on the bottom, layer with cardboard or newspaper, keeping similar cartridges on one layer and fill any gaps and empty space with newspaper or cardboard.
Do not send the recycling container back until it has been filled with the required number of cartridges (inkjet: approximately 35, toner: 8-10).
Step 3: Ship the box to our recycling center
Each recycling container is sent to you with a prepaid shipping label affixed to the box. All you need to do is fill the container, seal it and give it to your shipping driver or take it to a drop-off location.  Note: The cost of the shipping is already covered.
Why should you recycle your used toner and ink cartridges?
To keep cartridges out of our nation's landfills
Reduce air and water pollution because cartridges can leak into the environment
Recycled cartridges cost up to 65% less than original brand cartridges
Oh, it's free. Did we mention that?
---
Interested in learning more about our recycling program?
Or chat with us using the chat box below.