Step by Step Guide to Implement a Barcode Tool Tracking System
The thought of organizing all your tools and equipment for a barcode tool tracking system can be daunting.  It is for this reason some companies choose not to implement a tracking solution.  While it is true that getting started is a time consuming task, the benefits in time savings later is worth the effort.  Choosing a powerful barcode tracking system like Tool Hawk™ from General Data Company, Inc. is a good first step.  It is also a good idea to break down the effort in steps.  We have put together the following step by step guide for getting started tracking tools and equipment.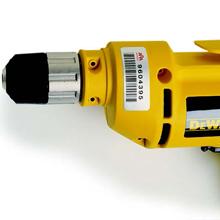 Step 1: Choose the right software solution and install it
Think about the top reason for looking at tracking tools and equipment.  Is it to make workers responsible for the tools they are issued?  Do you want to track tools by job number as well?  Is the maintenance of tools and equipment important?  Where will the barcode tool tracking system be used?  What reports are needed?  The question most important to your operation will make choosing a software solution easy.

Once you have decided on the software and hardware required for the tool tracking project, the first step is to install it on your computer or server.  With Tool Hawk™ from General Data, we typically assist with install of the software and hardware remotely.

You must give some thought as to where the software is to be installed and accessed.  For smaller companies the software can be installed on a single computer.  Larger organizations install them on a central server.  You may want the software available over the internet.  Tool Hawk™ can be installed in any of these ways
Step 2:  Identify all your tools, users and locations with durable barcodes
It all starts with the barcode.  Each tool must have a durable barcode label attached.  The steps to choose the right label are important to follow.  
Define the smallest area where a tool label can be applied.  This will ensure that the labels will fit all tools.   
Identify the surfaces the label will be applied to. This could be painted metal, plastic, ceramic or more.
Record the temperature levels when the label is applied to the tool and the extremes of temperature during the use of the tool.
Are the labels subjected to abrasion, chemicals or any other environmental stresses?
Once this information has been recorded, contact General Data at 844-643-1129 with the results.  We will identify the right material and send testing samples.  Remember that when applying labels to your tools, the surface must be clean and dry.  The label should be rubbed on all sides with pressure and left to cure for 48 to 72 hours.

The barcode label material can be anodized aluminum, metal, or polyester among others.

Once the labels have been applied, the tools are added to the tool tracking software.  The technician would first scan the tool barcode with a scanner connected to their desktop or using the hand held mobile computer and enter the rest of the fields related to that tool.  This builds the initial inventory of tools and allows you to start tracking right away.  This is the only element of the start-up phase that is time consuming.Tool Hawk™ makes this process easy by using maintenance tables to build drop down lists for common data.
Step 3:  Provide barcode IDs' to workers and locations
In order to accurately track tools issued to workers or moved to job site locations, it is important to identify each with a barcode.  Scanning a barcode is the fastest and most accurate way to assign tools to workers or move them to locations.

If workers do not have ID cards, there are a number of ways they can be issued a barcode.  They can be given a barcode key card that can be attached to their key-rings.  The user barcodes can be printed on a laser/inkjet printer and put into a binder or displayed somewhere near the computer.  The same is true with location labels.
Step 4:  Start scanning tools
Once steps one through three are completed, you can now start saving time and money by scanning tool out to users or moving them to different locations.  You now know where all the tools are at any time.
If you would like to learn more about how Tool Hawk™ can save time and money, please feel free to contact us at  844-643-1129, email us at talktous@general-data.com or send us a message through the link below.