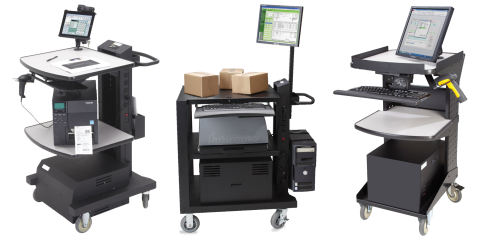 Wireless mobility typically refers to handheld or belt worn portable printers, scanners or headsets. However, these units can be limited in size, capacity and functionality.
For instance, what if you:
Want to print 200+ labels per day?
Need both a printer and PC?
Need a full computer screen?
Need thermal transfer labels?
A Mobile Powered Cart or Workstation is designed to hold and power up to (4) pieces of existing hardware for 8 - 12 hours of normal use. This enables "on­ demand" label printing with a high­ volume thermal printer.
The workstation or "Mobile Desk" is always within arms length anywhere in a facility and the need for extension cords or data drops from the ceiling are completely eliminated. Mobility enables workers to have real­time access to WMS, ERP and automated data collection capabilities, thereby, improving productivity in a variety of warehouse functions.
Benefits of Upgrading to a Mobile Powered Cart or Workstation:
If you integrate mobility into your existing processes, the increased productivity is immediately apparent.
You will eliminate the need to walk back and forth to a static desk or printer cart allowing for an expedited work process.
Avoid costly interruptions (e.g. chatting with co­workers) since the technology/hardware stays with operator at all times.
Eliminate shipping errors within your warehouse.
---
Interested in learning more about Mobile Powered Carts and Workstations?
Or chat with us using the chat box below.