Rugged Wi-Fi Enterprise Mobile Computer For Managers And Task Workers
Give managers and task workers everything they need to take instant action anywhere. Pure business on the inside and smart styling on the outside, the MC55 Series rugged mobile computer for the enterprise lets your workers access business applications, scan barcodes, snap a photo, view a video and place a private or push-to-talk call to virtually anyone in your facility – all with a single device. The sleek lightweight design is not only pocketable, it is at home in front of customers and patients. And government grade FIPS 140-2 security keeps your most sensitive data safe and secure.
The MC55 Series is built to last, giving workers a device they can count on and businesses a maximum return on investment (ROI). This rugged device family is built for use inside your buildings as well as outdoor areas of your facilities — and our toughness tests prove it. The MC55 delivers outstanding performance, even after exposure to heat, cold, dust and water.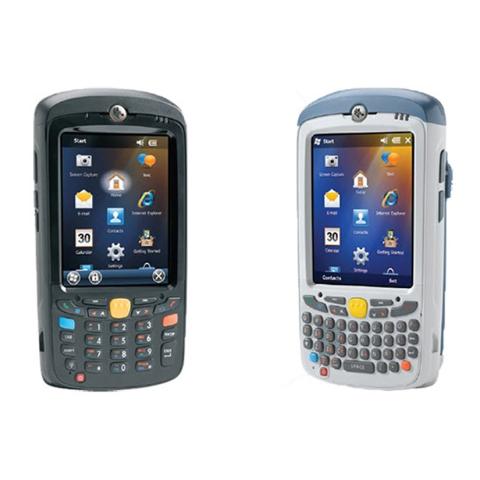 (click for larger image)
Ability To Handle Virtually Any Application

Packed with the latest in technology, the powerful platform offers the most current mobile operating system for the enterprise, as well as the fastest processor and largest memory footprint in this device class

Four Scanner Options To Deliver The Best Performance For Your Organization

The SE960 1- D laser scan engine provides best-in-class performance for 1-D barcodes, including near contact to medium range decoding of even the widest bar code. And the three variants of our revolutionary SE45002D imager deliver true laser-like performance and omnidirectional scanning of both 1-D and 2-D bar codes. The SE4500-SR offers the best range on medium and low density 1-D and 2-D bar codes. The SE4500-DL is optimized for medium to high density bar codes in addition to the bar codes found on driver's licenses and other identification document.

Government Grade Security

Wireless solutions create an instant concern for business and government agencies - data security. In addition to standard support for all the latest wireless authentication and encryption protocols, the MC55 adds native FIPS 140-2 Level 1 certification, bringing government grade security to businesses and government agencies alike. Unlike many other mobile computers, these security features protect your data and productivity without impacting performance.
Product Specifications and Details