Self-Powered, Fully Customizable Cart Designed For Mobile Testing And Mobile Patient Care
General Data's Mobile HealthCheck Battery-Powered Cart is designed to enable care providers to have testing, patient care and administration equipment and supplies on a mobile platform that can be used remotely in the field or or throughout their facility.  Employers can use it too, for providing hygienic stations for doing temperature checks or providing PPE, sanitizer, and disinfectants. Completely customizable, the Mobile HealthCheck Battery-Powered Cart is able to fully power devices such as printers, scanners, laptops and testing equipment in a self-contained environment for up to 8-12 hours.  Providers can have everything they need on one mobile cart that can move with them when and where they need it.
Build Your Mobile HealthCheck Cart According To Your Needs
Each cart comes standard with a rechargeable and swappable battery, antimicrobial shelves and handles, trash receptacle and a lockable drawer.  From there, you specify the equipment you need, including label and wristband printers, laser document printers, barcode scanners, computers with antimicrobial touchscreen monitors, laptops, and antimicrobial keyboards and mice.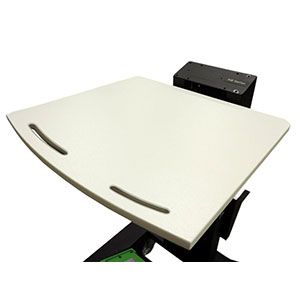 Antimicrobial Shelves and Handles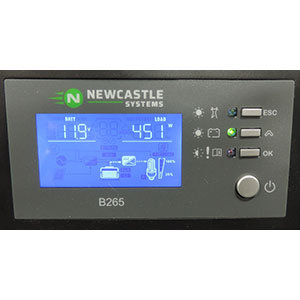 Rechargable Battery With Status Indicator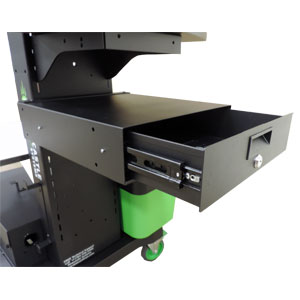 Locking Drawer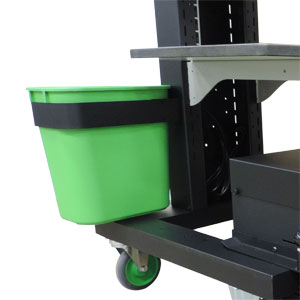 Large Trash Receptacle
Mobile, Rugged Cart For Use Anywhere

​​The Mobile HealthCheck Cart can be used for building entrances or gates, waiting rooms, employee common areas, medical drive-through testing stations, mobile field units, facility isolation units, supply and receiving areas, warehouse, or wherever needed.

Battery-Powered For Up To Four Devices

The powerful sealed lead acid battery system will run whatever devices need to be placed on the cart for optimal service in the situation at hand. Normal run time ranges from 8 to 12 hours, depending on the size and power requirements of the devices being used.

Rechargeable, Removable Batteries

The swappable battery configuration can keep the cart in service around the clock, with a full recharge in only 5 hours.

Antimicrobial Surfaces

All shelves are antimicrobial to inhibit the growth of microbial bacteria, mold, mildew, and fungi, and disinfectant safe for harsh cleaning agents such as alcohol, ethanol, chlorine bleach, hydrogen peroxide, and other sanitizers.

Completely Customizable

All facilities are unique and serve different populations, so every cart can be customized. The Mobile HealthCheck Cart can be configured to accommodate your current computer and devices, or any combination of scanners, printers (label, wristband, and/or label), tablet, laptop/keyboard/mouse (keyboard and mouse are antimicrobial), as well as antimicrobial touchscreen monitor; anything your staff and system requires, including patient testing and point of care.
Contact us by completing and sending this quick form, or you can call us at 1-844-643-1129 or drop us an email at talktous@general-data.com.  We will get back to you shortly with the answers you need.
Product Specifications and Details