Barcode Label Software That Reduces Manual Printing Efforts to Achieve New Levels Of Accuracy
NiceLabel PowerForms Suite Barcode Label Software is an all-inclusive suite of Design & Controlled Print software that provides business users with a graphical label and form designer, a controlled manual printing application, and an  automation builder for integrating with existing business systems.
This powerful functionality removes the need for programmers to develop their own custom printing front-end or integration applications, which are difficult and costly to maintain. Business users can rapidly create a printing solution that streamlines label printing, prevents errors and mislabeling, reduces labor costs and improves overall print productivity.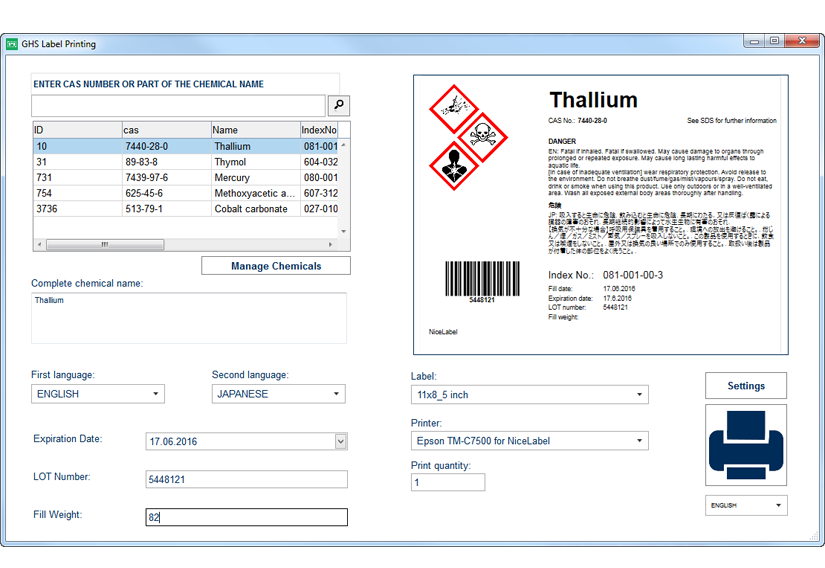 Reduce Manual Printing Efforts and Achieve New Levels of Accuracy
Businesses can significantly reduce manual printing effort and achieve new levels of accuracy and control by using NiceLabel PowerForms unmatched on-demand print capabilities. NiceLabel PowerForms Barcode Label Software feature set empowers business users to create custom printing applications, streamline complex printing processes and eliminate errors.
Users can initiate on-demand printing via a simple scan, touch or minimal data entry and preview the results to ensure accuracy and speed of printing. Label preview offers a visual aide, displaying the entire print job to provide verification of labels to reduce the occurrence of mislabeling. This all helps remove the "guess work" from the print operator while reducing the occurrence of mislabeling.
Simplify the Print Process for Non-Skilled Workers
Make it easy for nonskilled or seasonal workers to print your labels. Build a printing solution that uses images and icons to replace text or use buttons and touchscreen to remove the need for keyboard skills. You can rapidly onboard new print operators with minimal to no training.
Streamline Complex Printing Processes
Custom forms allow end users to make the necessary decisions to print exactly what they want, when they want it, without deviating from a standard process or workflow. This reduces the manual printing efforts, improves the speed of printing and print productivity.
Integrate Printing With Your Existing Business Systems
Businesses can significantly reduce printing effort and achieve new levels of accuracy and productivity by using the Automation module's unmatched integration capabilities. Automation's features empower business users to integrate and automate printing from existing business systems without any coding. Automation also lets you integrate printing with hardware devices such as PLCs or weight scales. Automation empowers you to streamline complex printing processes, eliminating errors and improving print productivity.
Get Your Free 30 Day Trial
Download a 30 day trial of NiceLabel Powerforms Suite Label Design & Printing Software.
You May Also Be Interested In