LaserTrack FLEX - The Only Histology Cassette Printer With Flexibility to Accommodate Your Lab's Unique Needs & Workflow Today - and In The Future
The FLEX features LaserTrack's proven laser printing technology that produces clean lines and high-definition text and barcodes that deliver a 99%+ first-time scan rate.  With all of the FLEX's features and flexibility, it's a must-have for a modern histology lab workflow focused on efficiency, error-free sample identification and tracking, and patient safety.
 
Watch The LaserTrack FLEX Video
See What Our Customers Are Saying
"
As we are an orthopedic research lab, the LaserTrack FLEX has become a game changer for us when it comes to GLP compliance.  Due to its three-sided printing capability, we can now easily fit all of the required info on the cassette.  Throughout the process of purchasing and implementing the LaserTrack FLEX into our lab, we have had amazing customer service.  The final product is high quality, the system is easy to use, and it holds enough cassettes for our needs, but not so many that the foot print becomes too large.
"
Research Associate - Histology Lab Manager | Colorado State University Orthopaedic Bioengineering Research Lab
"
I could talk about the FLEX all day! Having the FLEX has positively changed our workflow as well as increased our production. This was done by the cassettes always scanning as well as the speed. There was no need for re-prints as they scanned without issue. This increased technician satisfaction and improved all around patient safety. We will soon utilize the three-sided printing, and we will have levels on one side as well as upfront special stains on the other. When you get the FLEX, you not only get a state of the art instrument, you get the entire General Data family ensuring all of your labs needs will always be met.
"
Grossing Supervisor | Dermpath Diagnostics
LaserTrack FLEX Cassette Printer Specifications
Dimensions
 (13 x 19 x 29) (330 x 483 x 737) (in) (mm)
Weight
 88 lbs, 40 kg
Voltage

 100 - 240V, 50/60Hz, 3A

 The main power supply voltage fluctuations should not exceed +/- 10%

Number of Magazines

 6 - 10 depending on desired cassette capacity.

 *The number of cassette magazines is field upgradeable at any time after purchase.

 Each magazine holds up to 80 cassettes.

LIS Connectivity

 Cerner®, CoPathPlus®, Epic®, Beaker®, Sunquest CoPathPlus™, SoftLab®, Other LIS/LIMS systems

Characters

 Alphanumeric, linear barcode or 2D, Datamatrix barcodes

Network Connection
 USB, LAN
Print Area Options
 Front only (standard)
 Front + one side (upgrade at any time)
 Front + two sides (upgrade at any time)
Linear Cassette Movement (LCM)
 Cassettes move in a linear motion inside the instrument, minimizing the potential for jamming. 
 No turning, twisting or rotating motions ensures smooth operation and fast printing.
Designed for Service
 Access panels are located on the front and both sides of the instrument for easy access by service     technicians.
LaserTrack FLEX Cassettes
The LaserTrack FLEX cassette printer is equipped with universal magazines that accept FLEX slotted cassettes, FLEX large hole cassettes, and frames for Sakura® Tissue-Tek® Paraform® sectionable cassettes.  FLEX cassettes come in stacks of 20 that are taped with a special release liner for easy loading.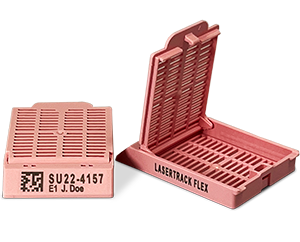 FLEX
Slotted Cassettes
(lids pre-attached)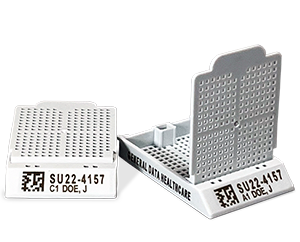 FLEX
Large Hole Cassettes
(lids attach separately)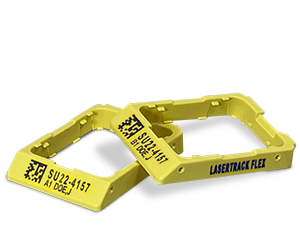 Sakura®
Tissue-Tek® Paraform® Frames
(formulated specifically for LaserTrack cassette
printers, purchase from Sakura)
Want To Know More?
Get more information about the LaserTrack FLEX Cassette Printer, or request an in-person or virtual demo.
You May Also Be Interested In