Fast, Full Color Heavy-Duty Color Inkjet Label Printing
High-speed, batch near-prime color label printer, for on-demand gloss labels. Consider the Epson ColorWorks C7500G Color Inkjet Label Printer for Just-In-Time Color™ printing of large print jobs and jobs with tight time windows.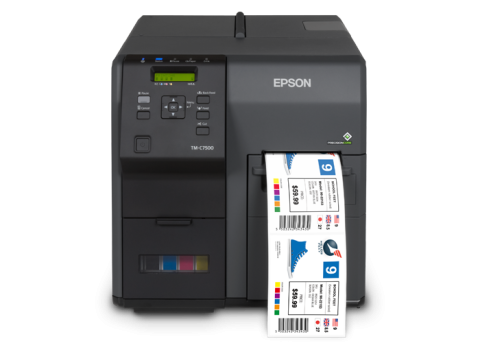 Should you buy an Epson ColorWorks C7500 or C7500G Color Inkjet Label Printer? The answer depends on your applications. If you are not sure and want maximum flexibility, then always choose the C7500G as it will print on all media types (matte, glossy and more). The only advantage to the C7500 is that it yields a darker, truer black on matte media (the C7500 cannot print on glossy media). If you know that you will not need to print on glossy media and the appearance of black ink on matte media is important to you, then you should choose the C7500. Both the C7500 and C7500G are BS5609-certified2.
Rugged design means minimal maintenance and a low overall cost of ownership; ideal for busy, on-demand environments
Precision Core inkjet technology and UltraChrome DL inks from Epson; delivers vibrant, accurate colors, smooth gradations, precise barcodes and ultra sharp text
High-Speed, On-demand Color Printing
Speed through multiple full-color labels with variable data up to 11.8" per second
Up to 50% lower printing costs than with laser and thermal transfer printers for high-durability color labels
Built-in ZPL-II emulation with the ability to automatically merge color artwork from memory eliminates the need for pre-printed labels in traditional thermal transfer applications
High yield ink cartridges mean fewer user interventions and less waste than most thermal transfer printers; easy to hcange, so there's less downtime
Want To Know More?
Request more information or ask us a question about the Epson ColorWorks C7500G Color Inkjet Label Printer.
You May Also Be Interested In