Professional Barcode Label Software For Powerful Label Design and Label Printing
NiceLabel Designer Pro Barcode Label Software is a powerful and full-featured solution that gives you all the tools you need to create, print and manage barcode labels and label templates in multi-user environments. Quickly design professional labels without making investments in training and coding.
The new NiceLabel Designer Pro Barcode Label Software delivers a familiar Microsoft Word-like user experience. This means anyone can quickly design professional labels without previous knowledge of barcoding or designer training.
NiceLabel Designer Pro label printing software enables production and warehouse staff to print quickly and without errors. NiceLabel comes with an all-in-one printing form that helps users print accurate labels without the risk of error.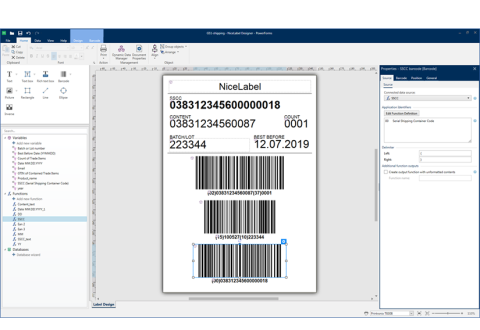 (click image for larger view)
Full-Featured Professional Barcode Label Software

NiceLabel Designer Pro Barcode Label Software is perfect for the single user who needs advanced features, capabilities and database connectivity options in a multi-user environment. It features a familiar Microsoft Word-like user experience so anyone can design and print professional-looking labels without advanced skills.

Pre-Built Compliance Label Templates Reduce Complexity and Cost

NiceLabel label software comes with a library of pre-built labels that align with industry standards like GS1, AIAG, ODETTE, GM, VDA, etc. Even the most complex labels such as chemical, food and garment care labels can be designed quickly and linked to dynamic data sources. NiceLabel even has a simple wizard for designing and printing GS1 shipping labels that ensures compliance.

Barcodes and RFID Encoding

Add any type of linear or 2D barcode to your labels: GS1-128, DataMatrix, QR code or 70 others. NiceLabel keeps up-to-date with the latest standards to ensure compliance with regulations.

Advanced Database Connectivity

NiceLabel Designer Pro can connect to advanced databases and data sources including SQL Server, Oracle and MySQL, as well as providing OLE DB and ODBC provide connectivity to almost any other database. Nicelabel Designer Pro also supports custom SQL data queries for advanced queries.

Print Barcode Labels Quickly Without Errors

NiceLabel ensures print operators experience a simple interface providing them with everything they need and no distractions. NiceLabel works with all laser printers, thermal printers and RFID printers, and optimizes commands for the selected printer to achieve the maximum quality and performance.
Product Specifications and Details